In this article, we'll be looking at the social media landscape in Singapore in 2021. Singapore is ranked among countries with the most advanced technology both in the Southeast Asia region and globally. Indeed, Singaporeans spend most of their time on social media platforms, and the two have become great companions.
For that reason, it's estimated that approximately 88% of the Singaporean population can access the Internet and spends nearly 7 hours every day connecting with friends and family.
Assuming an average sleeping time of 8 hours, this means that Singaporeans spend nearly 40% of their lives on the Internet.
The article will provide you with in-depth information on social media usage in Singapore and across the world. These numbers are useful when developing your social media marketing strategy.
Internet Penetration and Usage Statistics in Singapore 2021
Singapore has a population of 5.85 million people, which is 0.08% of the world's entire population. It's spread across 270 sq miles or 720 km 2. Therefore, 8, 358 people occupy a square km, thus making the country the third most densely populated across the globe.
Further, Singapore was ranked the 9th most expensive country to live for its cost of living index stands at 81.1, and rent at 63.27.  It has also been ranked as the most expensive city in the world, mostly because of the cost of car ownership.
By January 2020, nearly 5.14 million Singaporeans could access the internet, which is a 5.3% increase from 2019. Therefore, 88% of citizens can go online, making it one of the world's highest internet penetration rate. They also spend, on average 6h 48min of their day on the internet.
Singapore is the second country in Southeast Asian with a high rate of internet penetration. The high rate is because parents give their children internet-enabled devices as early as eight years. The world average is ten years; for that reason, Singaporeans are amongst the youngest population to go online across the world.
The easy access of the internet allows them to engage in content sharing, online shopping, access gaming sites, and social media platforms at a younger age.
Most Singaporeans use their smartphones for social networking or search for information. As a result, the number of scammers, impersonators, and cyber-attacks has jumped nine folds in the last three years.
In view of that, The Personal Data Protection Commission (PDPC) of Singapore has instituted stringent measures to protect its citizens against cyber-attack.
Mobile Connections in Singapore

The number of mobile connections in Singapore stood at 8.56 million for the period between January 2019 and January 2020. The figure is a 1.7% increase from what was recorded for the same period in 2018. Mobile connection in Singapore is approximately 1.5 times more than the country's population.
Mobile phones have 56.8% web traffic since approximately 99% of the mobile users are connected through 3G-5G.
Singapore has unparalleled mobile broadband upload and download speeds across the world, thus making it the second-best country in terms of mobile connectivity. The first country in the 2020 Global Connectivity Index is Australia, with a score of 88.4, followed by Singapore at 86.6.  For that reason, the population enjoys an exceptionally high consumer mobile video experience.
Although the country leads in network responsiveness, it's still lagging behind its East Asian peers like Taiwan, South Korea, and Japan when it comes to 4G availability scores. However, the score is at above 90% and is likely to join the world's elite countries very soon.
Watching video has become Singapore's favorite way to pass the time. There are several video streaming apps that the population uses for their entertainment.
Netflix is the leading mobile app followed by BIGO Live, while the Hong Kong-based video streaming app known as VIU is ranked the fifth. Singaporeans also use their mobiles to stream video and music from YouTube or download videos from Facebook and Instagram. Digital music sales rose by 11% in 2019 to settle at $47 million as compared to 2018.
72 % of internet users use their mobile to play video games and pay for video games. For instance, 7.9% of internet users pay for their downloadable content or game add-on using their mobile phones.
Some of the popular sites are Pokémon Go, Mobile Legends, and MOBA. Bang Bang is part of Mobile Legends with the highest consumer spending. The eCommerce spending rose by 12%, showing that consumer trust and confidence in online shopping is on the rise.
Digital payment transactions via mobile gadgets are in the range of $12.31 billion, with each Singaporean spending approximately $3016 per annum. Therefore, local consumers are using their mobile devices to purchase home appliances and furniture online.
Singapore Social Media Statistics
By January 2020, more than 4.6 million Singaporeans were active social media users. The figure was a 1.6% increases for the period stretching from April 2019 to January 2020.
Thus, up to January 2020, social media penetration in Singapore had touched 79%. The country is ranked the fourth after UAE, Taiwan and South Korea in terms of social media penetration across the globe.
YouTube remains a popular or most-used social media platform in the country, followed by Facebook. On the other hand, Facebook is the world's most-used social media platform. Singaporeans spend approximately 23 minutes to visit ten pages every round. While YouTube is the top searched site on the Google search.
1.    Facebook Statistics in Singapore
Facebook has been ruling across the world; thus, the reason businesses are running functional Facebook pages. For that reason, there are 2.45 billion active users on Facebook across the globe.
By March 2020, nearly 4.45 million Singaporeans were active Facebook users, which accounted for 74.4% of the country's entire population.
Gender Breakdown of Facebook Users in Singapore
51% of the Facebook users were men, and 49% are women, while citizens aged 25-34 were the majority Facebook users. Actually, 1.53 million out of 4.45 million Face book users are in this age group. 18% of this group are men, while 16.4% are women.
2.    Instagram Statistics in Singapore
More than 2.113 million Singaporeans are on Instagram, which is 34.4% of the country's population.
Gender Breakdown of Instagram Users in Singapore
55.9% of the active Instagram users are female, while 44.1% are male. There more women on Instagram in all ages.
Additionally, 40.2% of Instagram users are aged between 25 and 34.
3.    LinkedIn Statistics in Singapore
Singaporeans are also active on LinkedIn, and by March 2020, roughly 2.83 million or 47.3% of the population are active on this platform. 60.1% of these users are aged 25-34 years.
Key Facts about Social Media Usage in Singapore in 2021
As shown above, Singapore millennials have dominated social media. They make up the majority of the South Asia workforce, and marketers have realized that. Therefore, they have adapted their social media marketing activities to capture the interests of this consumer group.
Some of the most active platforms are Facebook, YouTube, Instagram, and Twitter. Users visit these platforms to stream video contents. Thus, marketers can't ignore video content in their marketing strategies.
4.45 million Singaporean Facebook users access this platform via mobile, and advertisers can reach them by ads. For that reason, the majority of businesses in the country have Facebook accounts and have invested in sponsored posts or paid advertisements.
Videos and photos are the dominant features on Facebook and have generated a considerable rate of engagement.
The most common messaging services on social media across the world are messenger, WhatsApp, WeChat, Skype, and LINE. WhatsApp is the leading social messaging platform in Singapore, followed by Facebook Messenger, WeChat, Skype, and LINE.
WhatsApp is the most used social media apps in Singapore since 4 million people in the country are using it to receive government updates.  Since October 2019, the government adapted this platform as a rapid information sharing system.
English, Chinese, Tamil, and Malay as the official languages in Singapore and the administration use AI translation tools to translate the content from English to other languages that the community can easily understand.
Global Social Media Statistics
1.    Global Internet Connectivity
The world has 7.75 billion people as of January 2020, and 55.3% of these individuals live in urban areas where is an improved mode of transport and communication. 50.4% of these are male, while 49.6% are female, and their median age is 30.9 years.
Over 5.19 billion people have access to mobile devices, which is a 2.4% increase in the same period in 2019. Thus, 67% of the world's population are active mobile users.
Nearly 4.54 billion people across the globe can access the internet, which is a 7% increase in January 2020. Approximately 3.80 billion of the world's population have social media accounts, which is a 9% increase from what was reported in January 2019.
Therefore, 60% of the entire world population can access the internet, and more than 3.8 billion or 49% of the people are on social media. That means they are either on Facebook, YouTube, LinkedIn, Twitter, Instagram, and WhatsApp, among others.
People spend approximately 6 hours and 43 minutes daily on the internet, which is lower than in 2019 by 3 minutes.
It estimated that the world's internet users will spend cumulatively 1.25 billion years accessing the internet in 2020. Roughly one-third of this time is spent on social media platforms.
The amount of time spent online varies from one country to another. For instance, Filipinos spend 9 hours and 45 minutes daily, which is the highest, while the Japanese spend 4 hours and 22 minutes, which is the lowest. The global average time is 6 hours and 43 minutes, while Singapore's average time is 6 hours and 48 minutes.
Although 60% of the world population is connected, 40% or 3.2 billion people are still unconnected to the internet. Out of the 3.2 billion unconnected people, more than 1 billion or 31% lives in Southern Asia while 27% are located in Africa.
Further, over 50% of Africa's unconnected are below 20 years, while less than 50% of the unconnected people across South Asia are aged 13.
Women remain the majority of the unconnected population across the world as compared to men. For instance, a high proportion of women in India are not conversant with mobile internet. The UN reports indicate that the imbalance is attributable to deeply ingrained social practices and norms.
2.    Mobile Devices Connectivity
4.18 billion in the world can access the internet via their mobile phones. Therefore, mobile companies are contributing 50.1% of the amount of time spent online for 3 hours, and 22 minutes are spent on the internet through mobile devices.
As stated, most of the connected population is accessing the internet via their mobile devices, amounting to 92% of active internet users across the world. On the other hand, computers are also used by the connected individuals to access internet. For instance, three-quarters of the users access the internet via desktop and laptop. These are individuals aged between 16 to 64 years.
Further, 44% of all web page requests are received through computers and 53% via mobile.
3.    Mobile Applications
Mobile applications are on the rise and account for ten out of 11 minutes spent on the internet via mobile devices. Thus, mobile users are using apps to stay in touch with their friends and families, manage their finances, access dating sites to find love, and get fit.
In terms of finding love, dating sites have attracted significant attention and are now booming business. For instance, lonely hearts spent cumulatively $2.2 billion accessing dating sites in 2019, which was a 50% increase in the amounts paid in 2018.
In 2019, $120 billion was spent downloading roughly 200 billion mobile apps and making app-related purchases. That means that each user spends on overage $21 every year on mobile apps.
Gaming apps attracted increased attention in that year with gaming accounts generating the highest traffic. For instance, 70% of consumer spending in 2019 was done via mobile apps. However, the amount of time spent on games via mobiles was lower than the money spent on purchasing gaming apps.
Further, people spent 3 hours and 7 minutes on mobile phones, accessing communication apps. Showing that people are social animals.
4.    Social Media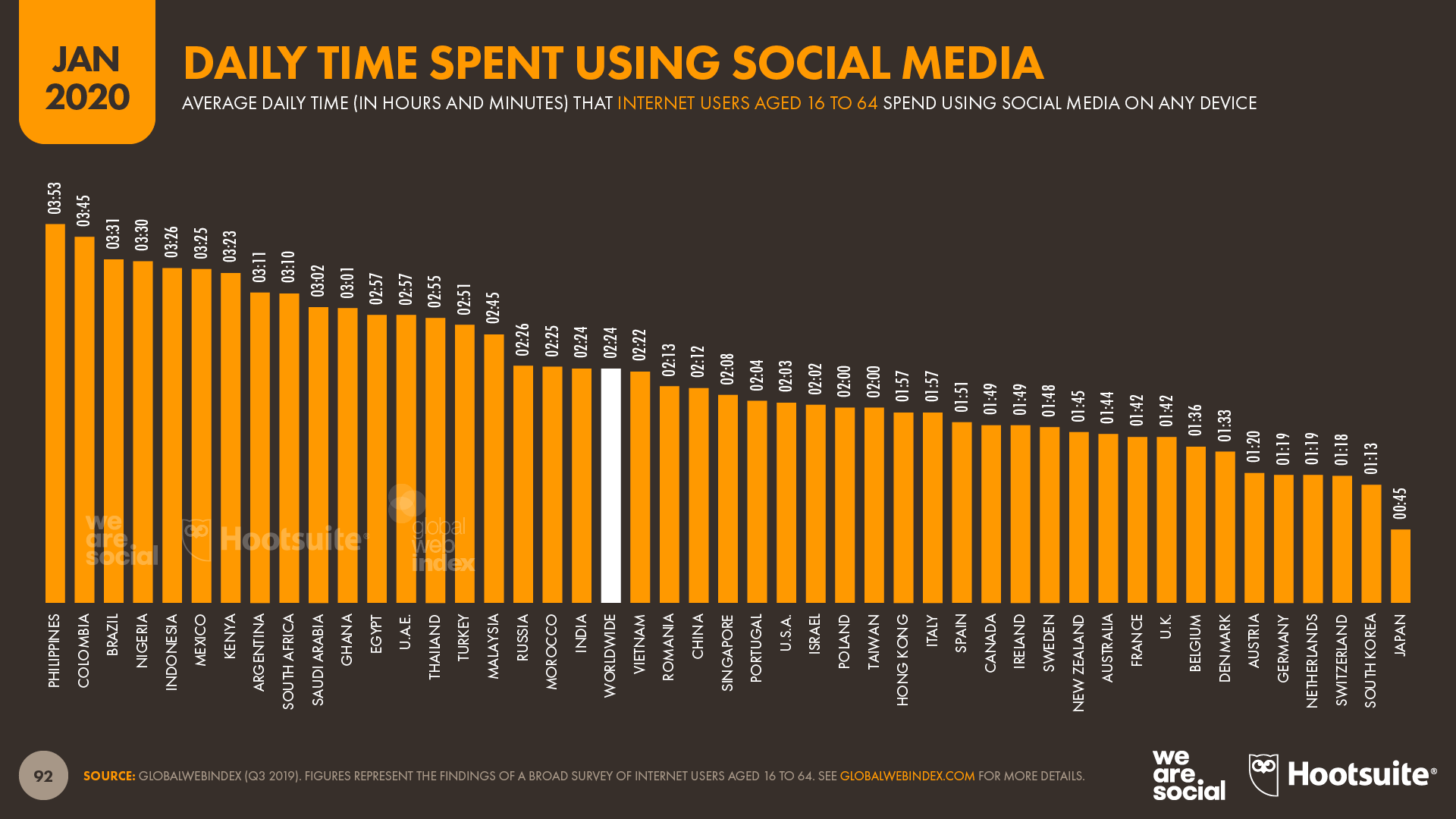 People access social media platforms via computers and mobile devices. Thus they spend 2 hours and 24 minutes on social media on average every day.
Filipinos are the most social beings in the world, for they spend 4 hours on social networking platforms, Singaporeans spend 2 hours and 8 minutes, Japanese are the least social for they spent 45 minutes while the global average is 2 hours and 24 minutes.
Global Facebook Statistics
Facebook is the most accessed website across the world. The monthly Facebook users in 2019 were 2.5 billion, and the number continues to grow.
On the other hand, businesses are only able to reach 1.95 billion or 80% of the active users with their advertisements. They can reach half of the world's population aged between 18 and 34 years.
By March 2020, Facebook had 2.6 billion users per month, which is an 11% increase from the 2.38 billion in March 2019. For that reason, marketers have realized that the platform is too big to be ignored.
1.73 billion people are daily active users as of March 32, 2020, and 29.7% of these users are aged between 25 to 34. Further, five new profiles are created each second showing that Facebook has enormous potential
for growth.
Also, 76% of the active Facebook users are female, while 66% are male. The highest traffic on this platform is recorded at the mid-week around 1-3 pm. Additionally, post done at 7 pm receives more clicks than those made at 8 pm. Thus, advertisers can reach more consumers at that time since there is more engagement in the evening.
More than 300 million photos are uploaded each day, but since nothing is perfect, 83 million Facebook accounts are fake. Some of the reasons for the existence of these fake accounts is the fact that some professionals have accounts for testing and research, while other users have created more than one account to segment their use of Facebook.
The average time spent on Facebook is 20 minutes, but within a minute, more than 293,000 people update their status, 136,000 photos are posted while 510,000 comments are made. Facebook is only available in 43 languages and is based on the user's settings and not their location.
Global LinkedIn Statistics
LinkedIn is a professional networking platform that links professionals with employers. More so, it's an authoritative source of high-quality content, and a powerful channel to establish leadership as well as part of digital strategy for marketers.
By March 2020, the platform has approximately 675 million users, while 310 million or 46.9% are monthly active users. 24% of these users are aged between 18 and 24.
Two new profiles are created every two seconds on this platform, and 57% of the active users are males, while 43% are females.
There are more than 90 million senior-level influencers on LinkedIn, while approximately 63 million of them are decision-makers. On the other hand, 51% of graduates have LinkedIn accounts, which they use to search for employment opportunities.
YouTube Statistics
YouTube is a popular video platform, and its simple nature has increased its usage over the years. Thus, most content creators use YouTube to reach a broad audience. Further, people visit YouTube to access product reviews, beauty tutorials, gaming channels, music, and videos, among others.
The platform is the second in popularity after Facebook, and besides direct access, most users access the site using their Google accounts. For that reason, there are more than 2 billion active users on YouTube per month.
79% of internet users have a YouTube account, and it's accessible in 80 languages, thus covering 95% of these users.
Like Facebook, YouTube is used by a diverse generation; thus, people aged between 18 and 44 years can download or upload content on this platform.
Approximately one billion hours are spent on YouTube every day; therefore, each user spends 8.4 minutes watching videos on the site.
Further, 70% of these users access the platform using their mobile gadgets than their computers. Thus, most marketers have improved the mobile experience to attract more audience.
People upload 500 hours of video every passing minute; therefore, a user will take 82 years to watch all the videos uploaded on YouTube every hour.
Instagram Statistics in 2020
Instagram has 1 billion active users, and unlike Facebook, this platform has a network of younger visitors. That means that 50% of its users are aged below 34 years. Instagram is the second popular platform after Snapchat.
The majority of people using Instagram are aged between 18 and 24 years, and 51% of its users are female, while 49% are male. The US had the highest concentration on Instagram in 2019, for it had 116 million users, followed by India with 73 million, and Brazil had 72 million.
Since the majority of Instagram users are young, 6 out of 10 log in once every day. Thus, Instagram is the second most popular platform after Facebook. Further, 21% log in once every week and 16% now and then. More so, users spend 53 minutes on Instagram every day.
Many celebrities are on Instagram, and most marketers use them to influence their consumers' buying decisions due to their vast followers.
Sources
https://www.gq.com.au/lifestyle/travel/cash-at-the-ready-the-most-expensive-countries-in-the-world-to-live-in-2020/image-gallery/0c49cd88985d69623bfc7e563d8d91c9
https://www.businessinsider.sg/most-expensive-city-in-the-world-singapore-2019-1?r=US&IR=T
https://www.worldometers.info/world-population/singapore-population/
https://www.statista.com/topics/5852/internet-usage-in-singapore/
https://wearesocial.com/sg/blog/2020/02/digital-2020-singapore
https://napoleoncat.com/stats/social-media-users-in-singapore/2020/03
https://govinsider.asia/innovation/covid-coronavirus-singapore-ihis-kronikare-temperature-ai/
https://zephoria.com/top-15-valuable-facebook-statistics/
https://www.omnicoreagency.com/linkedin-statistics/
https://www.oberlo.com/blog/youtube-statistics