Google's Venice update was major change for the search engine optimization industry. It heralded the coming of Local SEO, which is somewhat different from organic or 'normal' SEO.
This article will examine how companies can engage in local SEO to improve their traffic.
To make our example feel more concrete, we will use a fictional office rental company in Singapore as an example. In Singapore, guidelines are set by the Urban Redevelopment Authority and the Council for Estate Agencies.

What is Local SEO
A company that engages in local SEO aims to increase its rankings for keywords that are geographically related. This involves ranking both in the Local Algorithms as well as the organic results.
The above screenshot shows the search results for the query 'Singapore Office Rental'. It shows what is known as the '7 Pack' local results and displays the name of the company and its address. Of course, it doesn't always show 7 results but you get the idea.
Local Search Ranking Factors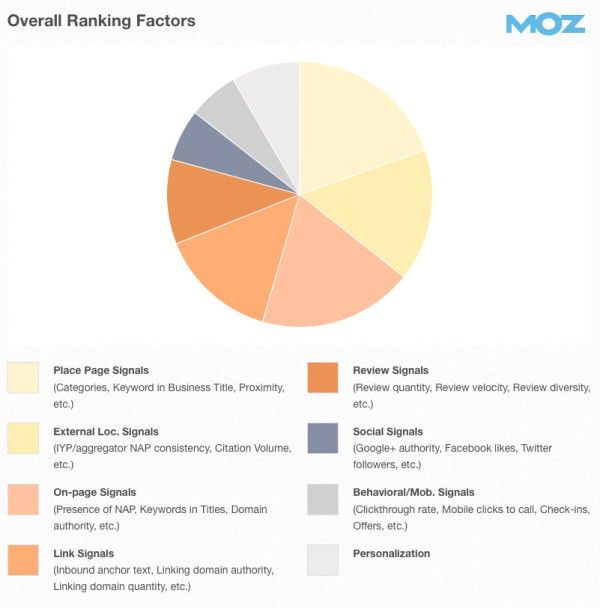 Moz has conducted some research that highlights the most important factors when attempting to rank for local SEO.
We will quickly go through the factors here:
Place Page Signals: This refers to signing up for the accurate categories for your Google Places listing and placing your keywords in your business title. Proximity refers to how near you are to where the search is being conducted.
On-Page Signals: This refers the authority of the domain and the presence of keywords in the title tags, among other on-page optimization factors. NAP refers to the name, address and phone number and it has to be accurate and consistently displayed throughout the website.
External Location Signals: You will need to have your NAP displayed on other websites, especially authoritative local directories. This will include websites such as the Yellow Pages, Yelp and so on.
Link Signals: This refers to the quality and quantity of links from other websites to yours. It is reported to have around 14.4% influence on the results.
Review Signals: This refers to the reviews of your business in Google Places. When asking for reviews, it is important to note the quality, velocity and diversity. Note that Google might remove refers that it believes are suspicious.
Personalization: We know that Google is starting to personalize search results according to user interest and user location and this is estimated to have an 8.3% influence on the results.
Social Signals: It seems that social signals such as Google+, Facebook likes and Twitter followers have a 6.3% influence in how well your website ranks in the local search results.
Behavioural & Mobile Signals: Those surveyed believe that behavioural signals such as the click-through rate, number of check-ins and calls provide 6.1% influence.
Local SEO for Real Estate Companies
Local SEO for real estate companies are particularly important. It is also highly competitive. We have prepared a quick guide to help you set the right foundation for your local SEO efforts.
Set Up Your Google Places Properly

Unless you claim and verify your business on Google Places for Business, there is no way that your page will show in the 7-pack search results.

Try to complete your listing 100%. This will mean adding images, videos and others. No matter how tempted you are, do not use keywords in your business title unless it is part of your business name. Google might see this as spammy.

If you need help picking a category to place your business in, you can use this category guide.

Set Up Google Authorship

While this is not strictly to improve local SEO, we would consider setting your site up for Google Authorship part of the local SEO efforts. If you need to find out why we consider it important and how to implement it for your site, you can refer to our previous article. As you write more (informative, hopefully) articles, Google will see you as an authority in that particular space.

Schema Markups

Implement the Schema.org markup for local business on your site. We have previously provided an example of how to implement the markup for videos. It's not much different. You essentially have to add certain markups to your addresses. This provides Google with richer information about your website.

Citations are Key

Citations refer to the occurrences of your Name, Address and Phone (NAP) number in the web. Some argue that citations are more important than links for local SEO. It is critical that this information remains consistent for every citation.

Ask Your Customers to Leave You Reviews

Reviews are an important part of local SEO for real estate companies. Try to encourage your customers to leave reviews about your business. However, do note that this is where many people try to game the system, and the quality and velocity of these reviews are important. If a business suddenly has 10 five-star reviews overnight, then Google will get suspicious and might remove those reviews.

Participate in Social Media

Sign up for as many social accounts as you can. These include Facebook, Twitter, LinkedIn, Pinterest etc. Complete all those profiles 100% and try to engage your customers through these channels.

Local or Hyperlocal Content Marketing

When you are creating content, try to include local news articles or events. For example, if you are doing local SEO for real estate companies, then you will want to mention and/or link to related government websites, local events and landmarks. This will help Google understand that you are focused on a particular area.